UPS TRANSIT MAP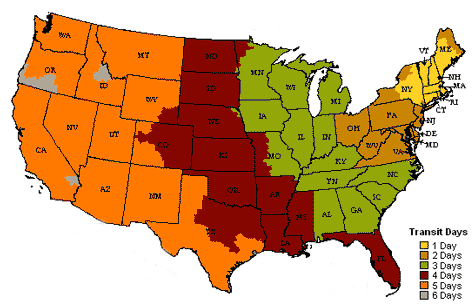 We use both UPS and Priority US Mail for Ground Shipping, depending on weather, size of package and area of the country. If you have a strong preference for one or the other, please indicate so in the comment box.
UPS does not deliver on Saturday except for Overnight or 2nd day Saturday delivery, which you would have to call your order in to us as the website doesn't offer Saturday delivery as an option. 800-281-1757
Please Note: During hot months we may require an insulated box and ice pack when ordering cheese, for an additional $4.00 handling charge. This charge will be determined after we receive your order and we will notify you with our confirmation.
Shipping and Handling costs are based on the dollar amount of the order for each address, please refer to the shipping chart below.

All orders requested to ship ASAP are shipped either on the same day or on the following day through regular shipping services. If you live in the eastern US, your package should arrive within three or four business days. If you live in the western US, your package should arrive in four to seven business days.

We generally send out packages by standard ground services. Optional faster shipping service is available. On our website you may choose from Standard, 3 Day Select or 2nd Day Air. For overnight services, please call 800-281-1757

It is best to allow a few extra days during the busy holiday season. Orders for holiday shipments are generally packed ahead and stored off site. This makes it difficult to change your order. Please make sure you have your addresses and items correct. These orders are shipped in time to arrive a week before the major holidays.

Shipments to Post Office Boxes, Rural Rt addresses, APO's and to Alaska or Hawaii are shipped Priority Mail and may incur extra shipping costs. Foreign shipments are accepted but need to be phoned in, faxed or emailed and are sent by the United States Postal Service. Please call for information 800-281-1757
Please note for 3 Day Delivery, the package will be delivered the 3rd business day after the order is shipped from here. For 2nd Day Air Delivery, it will be delivered the 2nd business day after the order is shipped from here.
Shipping & Handling Charges - per address:
| | | | |
| --- | --- | --- | --- |
| Order Total | Standard Shipping | 3 Day Delivery | 2nd Day Air Delivery |
| | | | |
| | | | |
| $0.00-25.00 | $ 13.95 | $ 35.05 | $ 39.90 |
| $25.01-40.00 | $ 14.95 | $ 39.50 | $ 47.70 |
| $40.01-50.00 | $ 15.95 | $ 47.15 | $ 56.30 |
| $50.01-60.00 | $ 17.95 | $ 52.10 | $ 65.85 |
| $60.01-75.00 | $ 18.95 | $ 55.15 | $ 73.90 |
| $75.01-100.00 | $ 20.95 | $ 61.85 | $ 83.00 |
| $100.01-125.00 | $ 28.95 | $ 64.80 | $ 91.65 |
| $125.01-150.00 | $ 29.95 | $ 69.60 | $ 98.90 |
| $150.01-175.00 | $ 30.95 | $ 74.60 | $ 106.15 |
| $175.01-200.00 | $ 35.95 | $ 77.50 | $ 112.65 |
| $200.01-250.00 | $ 45.95 | $ 81.60 | $ 119.30 |
| $250.01-275.00 | $ 49.50 | $ 85.80 | $ 126.85 |
| $275.01-300.00 | $ 54.00 | $ 89.75 | $ 134.30 |
| $300.01-350.00 | $ 63.00 | $ 95.10 | $ 141.40 |
| $350.01-400.00 | $ 72.00 | $ 100.05 | $ 148.25 |
| $400.00 + | 18% | | |
| | | | |