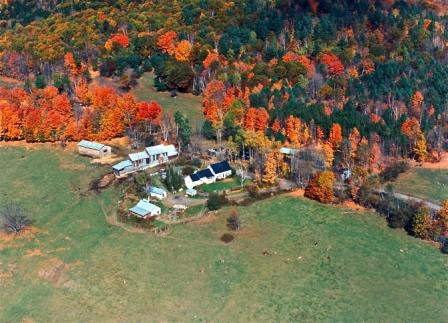 Sugarbush Farm in October Splendor
Sugarbush Farm is a 550 acre hillside farm located in central Vermont. The Luces are the second, third and fourth generations to live on this land. Jack and Marion Ayres bought the farm in 1945 with a dream to make a go of country living. They were the first folks in Vermont to start packaging cheese in waxed bars so they would travel well without refrigeration. By 1975 the Boston Globe wrote about Sugarbush Farm "At the end of a scenic Vermont road lies a Cheese Lovers paradise." In 1995 the American Cheese Society awarded Sugarbush Farm a Blue ribbon for the best smoked cheese in the country.
Today the farm is operated by Betsy, the Ayres's daughter, her husband Larry and their sons Ralph and Jeff. Its the Luce family's goal to keep the farm a working active operation. The future looks bright for the fourth generation with 7 grandchildren learning good working habits on the farm.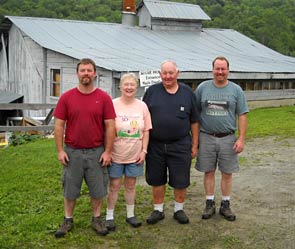 The Luce Family Second and Third Generations.
left to right Ralph, Betsy, Larry and Jeff.
The background is the maple sugar house where
each spring the family makes maple syrup from their 8,500 trees.
Our farm year follows the seasons both with farm work and the schedule of work inside with visitors and mail order of our cheese and maple syrup business.
We are open year round...January and February are the quietest months but we hear from many mail order customers. March and April are spent making maple syrup and shipping out the new crop to our customers. With over 50 head of cattle to take care of, chores take many hours in the winter when the snow is deep and they all need to be kept snug in the barn.
Late spring and summer are very busy at the farm with plowing, planting and cutting hay and we get many visitors coming to the farm to learn about maple sugaring, to taste the cheeses and to enjoy our beautiful view and animals.
Fall is the most beautiful time in Vermont with hundreds of people visiting each day and many packages being shipped home. Farm work includes harvesting corn for winter cattle feed.
November and December are very busy months with thousands of orders going out for the holidays, many folks coming to our farm store for the gifts, as well as getting all the farm buildings buttoned up for the cold winter.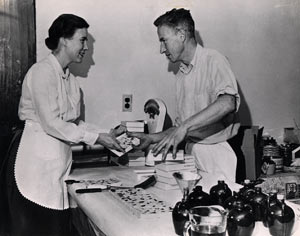 Jack and Marion Ayres
Betsy's parents Marion and Jack Ayres , founders of
Sugarbush Farm in 1948 making maple candy
and packing syrup.
The Luce Family and Sugarbush Farm guarantee all our products. You must be absolutely happy with everything or we will send you either a replacement or a full refund- which ever you think is best.